Hotels.com eGift Card eGift Card $50.00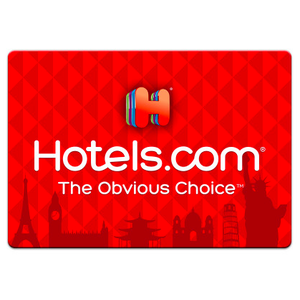 Product Description
The perfect gift for any occasion. Choose from over 135,000 hotels worldwide, including major hotel chains. Redeemable only at http://www.hotels.com/gc for prepaid bookings at eligible hotels. The Gift Card balance will be reduced by the amount of each purchase. If a purchase exceeds the balance, the difference must be paid with other payment method accepted by Hotels.com.
Only one Gift Card can be redeemed per online booking. Multiple Gift Cards may be combined into one Gift Card by contacting customer support at 1-888-999-4468 or online at: https://www.hotels.com/deals/gcbalance/
Gift Cards CANNOT be used for the following:

1. Bookings paid for at the hotel location or using the Pay Later option online
2. Bookings made over the phone
3. Package bookings (i.e. hotel + flight)
4. Bookings made through Group Travel Services
5. Bookings made prior to receipt of the gift card
Using your e-Gift Card(s) is simple: Redeem online
1. Select a hotel on www.hotels.com/gc
2. Select Gift Card as your payment type on the checkout page.
3. Enter your e-Gift Card number and pin Click to go to Hotels.com"
After placing your order, you can find your code by viewing Order Details found in the Order History section of this site. Order Details will include directions on how to redeem.
Note: Hotels.com electronic gift cards are Non-Refundable.