GameStop eGift Card $50.00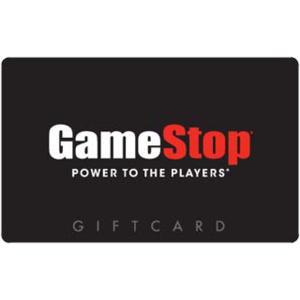 Product Description
ThinkGeek is obsessed with creating and sharing unique and authentic product experiences that stimulate our fans' imaginations and fuel their geek core. A ThinkGeek eGift Card is a sure-fire way to endear yourself to people who like novelties, apparel, toys, electronic and scientific gadgets and accessories that express their inner child and outer geek. Anyone can have a thermal water bottle, but ThinkGeek offers one with a 5W Bluetooth® speaker, hands-free speaker phone, FM radio, bottle opener and more! They also have universal gaming headsets and nerdy collectibles like the Star Wars Phaser programmable remote control for your big screen. Get T-shirts, tank tops, jackets, a Captain America hoodie or a Wampa rug. If it's geek, it's at ThinkGeek. Use ThinkGeek eGift Cards at GameStop and ThinkGeek stores and online at their websites, and on Kongregate.com.
This card can be used to purchase merchandise only in the U.S. at GameStop, ThinkGeek, EBGames, Babbage's, EBX, and Planet X stores and online at GameStop.com, ThinkGeek.com and Kongregate.com. Except where required by law, it may not be returned, redeemed for cash, or applied as payment on any account, and will not be replaced if lost or stolen. This card is not a credit card or a debit card and carries no warranties, express or implied. This card is issued by and represents an obligation of Marketing Control Services, Inc. (a Virginia corporation), which reserves the right to change these terms and conditions. Void where prohibited. To obtain your card balance, call 1-888-818-2915. Purchases of gift cards never count towards promotional totals (e.g. $10 off of $30). In order to take advantage of these promotions, customers must buy merchandise. Purchases of gift cards do not accrue PowerUp Rewards Points or Geek Points.
Please Note: eGift Cards are Non-Refundable.