Spa & Wellness eGift Card $50.00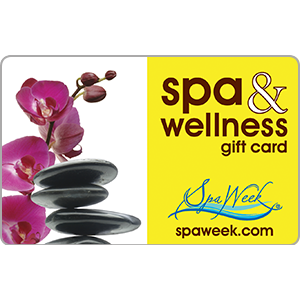 Product Description
The Spa & Wellness Gift Card is the perfect way to put yourself and your loved ones on the path to personal wellness. The ideal gift for every occasion, when you receive a Spa & Wellness Gift Card, your choices are endless (and it's hard to go wrong!) as the card is accepted at over 8,000 spa and wellness facilities across the US, Canada and Puerto Rico, never expires and has no added fees. Treat yourself, friends or loved ones to some much-needed and well-deserved relaxation with a soothing massage, facial, or manicure—even attend a yoga class! Visit us today at www.spaweek.com to find the perfect spa experience or wellness retreat near you.

Usable up to balance to buy goods or services only at the participating spas & wellness facilities listed at spaweek.com. Valid for one-time use only. Once used, any remaining balance will be issued to you as a credit for use at the location where this card is redeemed. Not reloadable. All cards not redeemable for cash in New Jersey or for cash in any other state unless the state requires cash redemption. Not a credit or debit card. Safeguard the card. It will not be replaced or replenished if lost, stolen or used without authorization. Wellness Media Group, LLC ("WMG") is the card issuer and sole obligor to card owner. WMG may delegate its issuer obligations to an assignee, without recourse. If delegated, the assignee, and not WMG, will be sole obligor to card owner. Purchase, use or acceptance of card constitutes acceptance of these terms. For additional Terms & Conditions, Participating Locations and other inquiries visit: www.spaweek.com


Please Note: eGift Cards are Non-Refundable.