ULX Series - Wireless Instrument Microphone System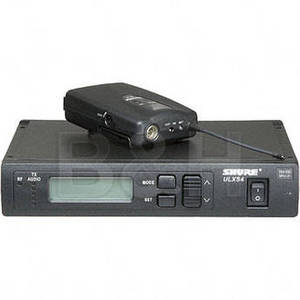 Product Description
The
Shure ULX Series
wireless systems provide professional wireless microphone solutions for broadcast, performances, conferences, houses of worship, schools, and businesses. The system includes the ULXS4 diversity receiver, ULX1 body-pack transmitter and WA302 instrument connecting cable.
The ULXS4 receiver operates on UHF frequencies, offering over 1400 user selectable frequencies to choose from. The dual antenna design represents diversity technology, which provides optimum resistance against RF interference and drop-out. Dual internal receivers are set to the same frequency and are constantly vying for the strongest reception. The receiver features a balanced XLR output that is switchable between mic and line level signal as well as an unbalanced 1/4" Phone output. A multifunction LCD provides group and channel information, transmitter battery life, and more. Two 5-segment LED's provide audio and RF metering.
The ULX1 body-pack transmitter is light weight and portable featuring a belt-clip for use with camera and guitar straps, belts, waistbands etc. The transmitter also features over 1400 user selectable UHF frequencies and a comprehensive LCD displays group and channel information and more. An input attenuation switch allows 0dB and 20dB output. Adjustable audio gain control is provided and the transmitter boasts 8-9 hour battery life on a single 9V battery.
The
WA302 instrument cable
features a 4-pin mini connector and 1/4" Phone male connector. The cable's 4-pin mini (TA4F) end connects to the ULX1 body-pack transmitter and the 1/4" phone end provides a direct input for guitar, bass, electric stringed instruments and more. The cable measures 2.5 feet (1.2m) in length.
System
Type of System
Rack/Table Top Mountable UHF Diversity Wireless Instrument System
RF Carrier Frequency Range
554.000 to 865.000 MHz
Approx. Working Range
300 Feet (100m) NOTE: Actual working range depends on RF signal absorption, reflection, and interference
Overall Frequency Response
25 Hz - 15 kHz, (±2 dB)
Signal-to-Noise Ratio
Greater Than 90 dB
# Of Channels
Over 1400 User Selectable Frequencies (Frequency J1 / 554 - 590 MHz)
# Of Simultaneous Systems
Up to 20
Receiver
Type of Receiver
ULXS4 Rack/Table-Top Mount Standard UHF Diversity Receiver
Type of Outputs
Balanced XLR - 22 Ohms, 1 = Ground, 2 = Hot, 3 = Cold
Unbalanced 1/4" Phone Jack - 3k Ohms, Tip = Hot, Ring/Sleeve = Gnd
(Both Outputs Feature: Voltage, Current and Phantom Power Protection)
Headphone Monitoring
No
Power Requirements
14 - 18 Vdc (negative ground), 550 mA
External Power Supply - PS40, Included, Now with Locking DC Connector!
Battery Type/Approx. Life
Not Applicable, Unit Does Not Operate on Batteries
Display
Yes, Power On Indicator, Diversity Signal Indicators and Audio Peak Indicator, Channel, Group, Transmitter Low Battery Warning.
Mounting Options
Rack / Table Top Mount 1/2 Rack Space
Antenna Type
Wire Type
Dimensions
1.72 x 8.56 x 6.52" (43 x 214 x 163mm) HxWxD
Weight
2.8 oz. (79 g) without Battery
Transmitter
Type of Transmitter
ULX-1 Body-pack UHF Transmitter
Type of Input Connector
TAF4 4-Pin Mini Connector
Type of Microphone
Not Applicable, Microphone Not Included System Includes a WA-302 Guitar/Bass-to-Transmitter (TA4F-to-1/4" (TS) Jack) Connecting Cable
Polar Pattern
Not Applicable, See Above
Interchangeable Mic Heads
Yes, Use any of the Shure Lavalier, Headset, Instrument Microphones, or Guitar/Bass/XLR Adapter Cables that terminate to a Mini 4-pin TA4F Connector.
Battery Type/Approx. Life
Non-Rechargeable Type
9v Lithium Battery / 21 Hours (Recommended)
9v Alkaline Battery / 8 - 9 Hours (Recommended)
9v Carbon-Zinc Battery / 5 Hours (NOT Recommended)

Rechargeable Type
9v Ni-Cad Battery / 2 Hours (NOT Recommended)
9v Ni-MH Battery / 2.5 Hours (NOT Recommended)
Mute Switch
Yes
Level Control
Yes, 25 dB Gain Adjustment Range
Antenna Type
Removable 1/2 Wave, Rear Mounted
Display
Power On/Off Indicator, 3-Segment Low Battery Indicator, Channel and Group, Peak Icon (Input Overload Warning)
Dimensions (WxDxH)
3.86 x 2.68 x 1.10" (96.5 x 67 x 26.7mm) HxWxD
Weight
2 lbs., 5 oz. (1049 g)