Q-Combo 5 Loudspeaker & Subwoofer Kit with BK5 Boom Kit (White)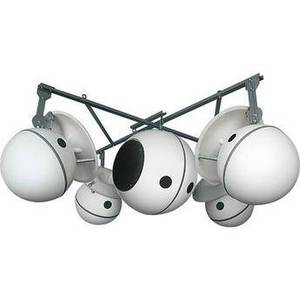 Product Description
The Soundsphere Q-Combo 5 Loudspeaker & Subwoofer Kit creates a single source of sound by using four Q-12A loudspeakers in acoustically difficult spaces when more than one speaker is required. The Combo 5 kit includes four white Q-12A loudspeakers, a white Q-SB2 subwoofer, and the BK5 boom kit.

The Q-12A loudspeaker features an hemispherical coverage pattern. It provides high sensitivity (97 dB 1W/1m), and utilizes Soundsphere's Poly-Exponential Incidence Reflector. In addition, the Q-12A features a true coaxial 12" driver providing a 180° vertical and 360° horizontal area of coverage, maximizing speech intelligibility and music clarity. The Q-12A is housed in a fiberglass enclosure and offers 60 Hz - 16 kHz frequency response with 97 dB sensitivity, 121 dB SPL, and 250W of power.

The Q-SB2 800W subwoofer features dual 18" drivers capable of a 360° vertical/horizontal area of coverage, while maintaining an enhanced low frequency response. The Q-SB2 is housed in a fiberglass enclosure with plated steel hardware and offers 40 Hz - 200 Hz frequency response with a high sensitivity of 99 dB. This kit is ideal for large venues such as open public areas, gymnasiums, auditoriums, arenas, ice rinks, transportation terminals, factories, and nightclubs.