Texas Roadhouse eGift Card $25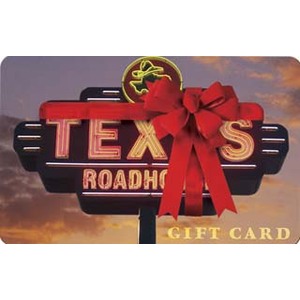 Product Description
Based in Louisville, Kentucky, with more than 450 locations in 49 states, Texas Roadhouse opened its doors in 1993. The Louisville, KY-based company is famous for hand-cut steaks, made-from-scratch sides, fresh-baked bread, and its lively atmosphere. In 2015 , Texas Roadhouse was named one of Employee's Choice Best Places to work by Glassdoor and debuted on Forbes magazine's list of 100 Most Trustworthy Companies. In 2015, Texas Roadhouse was named Top Steakhouse in Nation's Restaurant News' Consumer Picks survey, in 2007 and 2008 Forbes magazine ranked the company as one of the 200 Best Small Companies and in 2009 the company was ranked "Best Value" by readers of Consumer Reports magazine. For more information, visit
www.texasroadhouse.com
.
This ecard is redeemable solely at participating Texas Roadhouse restaurants. This card is not redeemable for cash, except where required by law. Valid in the U.S. only. For questions, please call 1-800-605-9722 or visit www.texasroadhouse.com. Notice: This card is issued by and represents an obligation of CardFact XIX, Ltd. Distributed by Armadillo, Inc. This card may not be resold without written approval from this issuer or its designee.
After placing your order, you can find your code by viewing Order Details found in the Order History section of this site. Order Details will include directions on how to redeem.
Please Note: Texas Roadhouse eGift Cards are Non-Refundable.