Regal Entertainment Group Gift Card $25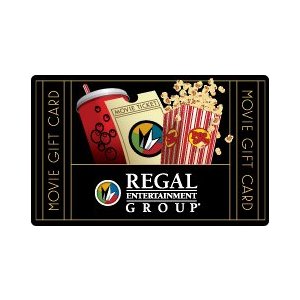 Product Description
Gift Cards are shipped via the US Postal Service in a plain envelope and should arrive within 7 to 14 days.
Regal gift cards are redeemable towards admission or concession purchases made at any Regal Entertainment Group theatre nationwide, including Regal Cinemas, United Artist Theatres and Edwards Theatres. Regal Entertainment Group operates the largest and most geographically diverse theatre circuit in the world, with over 570 theatres in 42 states and the District of Columbia.
Your use of this gift card constitutes acceptance of the following terms and conditions:
This gift card may only be used at participating Regal Entertainment Group theatres and select online merchants. This gift card is redeemable towards general admission tickets and concession purchases. It cannot be redeemed for cash unless required by law. Protect this card as cash. If the gift card is lost, stolen, damaged or destroyed, proof of purchase and proper identification will be required to obtain a replacement card and the replacement value will be the value of the card at the time the card is reported as lost or stolen. You may check your gift card balance at REGmovies.com or call (800) 291-8173. Visit REGmovies.com for participating theatres and show times and select online merchants. Issued by Regal CineMedia Corporation. Regal CineMedia Corporation and its affiliates (including Regal Entertainment Group) reserve the right to change these terms and conditions. ©2015, Regal Entertainment Group. All rights reserved.